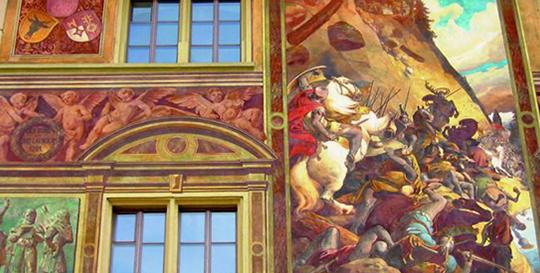 Technische Mitteilungen für Malerei
​Adolf Wilhelm Keim (1851–1913) is well-known not only for the mineral paints which carry his name, manufactured according to his principles by the company KEIMFARBEN GmbH today, he was also one of the most important and most innovative personalities committed to quality control in paint manufacture and, researched causes for damages by painting techniques.
He especially was engaged in improving painting technologies. In 1884 he founded in Munich the technical magazine Technische Mitteilungen für Malerei (=Technical Information for Painting) to inform about common paint and coating materials and to clarify problems and deficiencies in the paint industries. This magazine reached a wide readership: artists, decorative painters, architects, manufacturers, restorers, technicians, fine arts and trade schools. As of 1886 the Technische Mitteilungen für Malerei was the voice of the German Society for the Promotion of Efficient Painting Methods.
This society was founded with the intention of supporting Keim's Research Institute and Information Office for Painting Techniques at the Acadamy of Fine Arts in Munich. Results of the performed material tests and examinations then were published in the Technische Mitteilungen für Malerei. As editor, Keim shaped a mainly dominant and polemic tone toward the paint manufacturers and other competitors.
The name of the magazine was changed twice in the years from 1884 until 1944. The first two publication years were issued under the title Praktisch- und chemisch-technische Mitteilungen für Malerei, Farbentechnik und diesbezügliche Baumaterialienkunde (= Practical- and Chemical-Technical Information for Painting, Colour Technology and Respective Building Material Expertise).
From 1942, after the society was changed to German Society for Painting Techniques, the name changed until 1944 to Deutsche Zeitschrift für Maltechnik (= German Magazine for Painting Technique), edited by Kurt Wehlte (1897–1973) of the publishing house Callwey in Munich.


In 1955 the magazine was again available under the name Maltechnik - subtitle Technische Mitteilungen für Malerei und Bildpflege (= Painting Technique – subtitle: Technical Information for Painting and Maintenance). In 1972 the magazine's title changed to Maltechnik Restauro (Painting Technique Restauro) and since 1988 the journal Restauro reports about restoration, preservation and maintenance of international cultural heritage structures.
The journals of Technische Mitteilungen für Malerei are of the most important sources for art technology, restoration history and now online available for research.


Further literature:
Kinseher, Kathrin: "Womit sollen wir malen?" (= What should we paint with?). Paint controversy and paint technique research in Munich. A contribution to Adolf Wilhelm Keim's oeuvre, Munich 2014.
Trillich, Heinrich: Die Deutsche Gesellschaft für Rationelle Malverfahren (Adolf-Wilhelm-Keim-Gesellschaft e.V.) München; ihre Geschichte, Einrichtungen, Ziele und Erfolge, München 1928.
(=German Society for the Promotion of Efficient Painting Techniques: History, institutes, targets and accomplishments)